Clinical 3D tooth charting
TCE SmartChart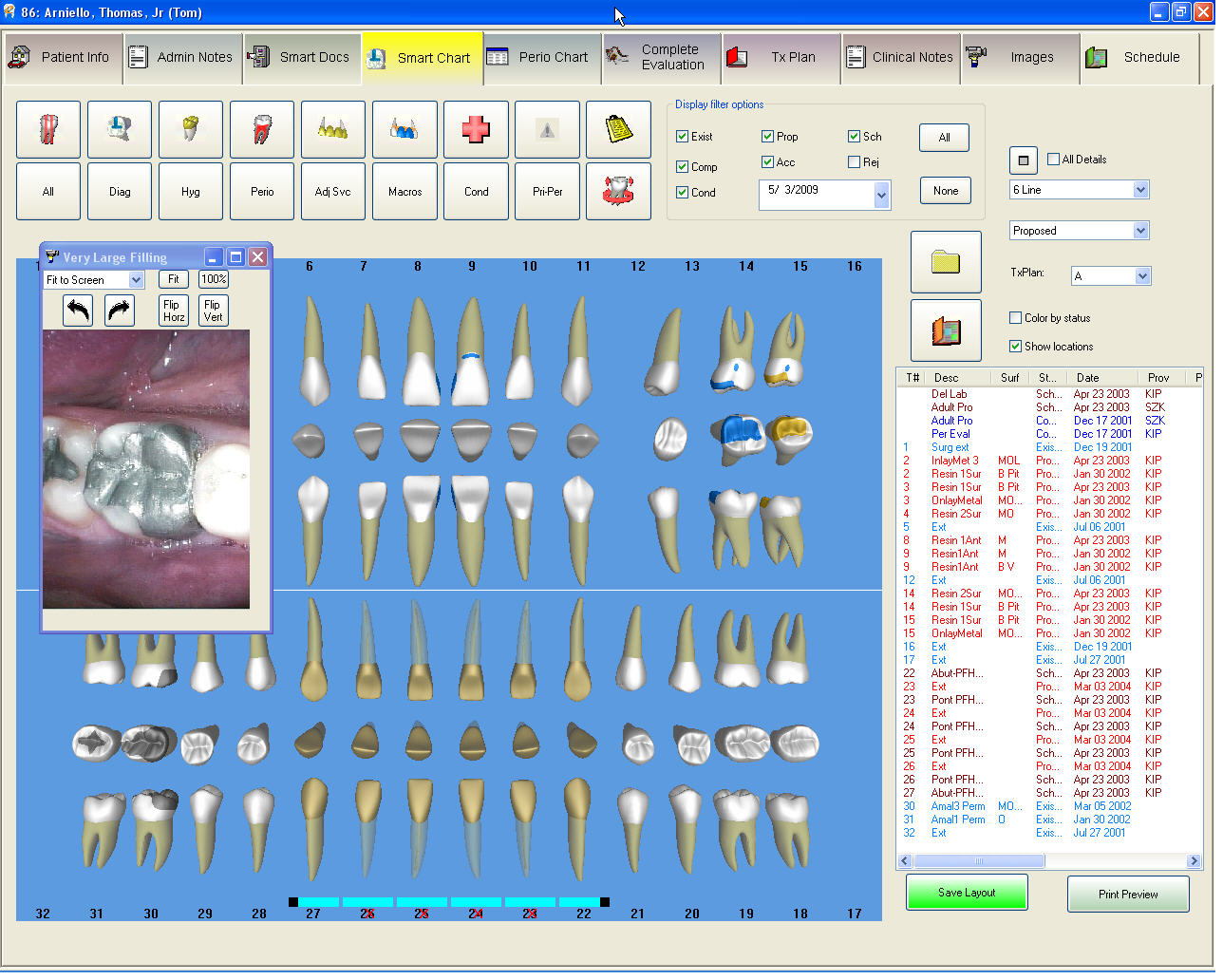 Charting is really "smart" in TCE
In an article published in Dental Economics in March, 2004, Dr. Parsa Zadeh suggested, "Perhaps the biggest obstacle in abandoning paper records is uncertainty about relying on electronic records during legal proceedings." At TCE, we believe this uncertainty is due to two main factors: accuracy and legal integrity, both of which are lacking in most software packages today that claim to facilitate a paperless dental office or electronic dental records.
Accuracy
Addressing the issue of accurate dental charting first,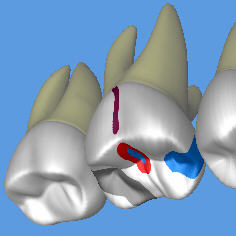 you know you can draw manually on a paper chart whatever shape, size and location of surface restorations, decay or other anomalies that you actually see in the patient's mouth. However, most dental charting software today still does not allow you to do that. This creates a serious problem for you if you want to have totally electronic dental records since you would have to use other supplemental ways to document your findings.
Looking at TCE's Smart Chart representation to the right, it is easy to see that there are three surface restorations and a buccal crack on tooth #3. The DOL amalgam, MO resin and small, defective occlusal resin were all quickly and easily charted with TCE. In this charting, it is not necessary to look somewhere else for x-rays, photos or written descriptions to realize what is going on with this tooth.
Also notice in the large screen shot above that we were easily able to draw the restorations on numbers 30 and 31 to match the actual restorations in the patient's mouth as shown in the intraoral image floated above the two teeth in the chart. The picture was taken and stored in our images tab for that patient and simply floated over the SmartChart tab for easy reference.
The Complete Exam's clinical charting functions look and work like paper charts, are user-friendly, integrate with digital imaging programs and other third-party products, and are fully compliant with all HIPAA Privacy and medical-legal requirements.
Legal Reliability
The legal integrity of your electronic dental records is very seldom discussed by dental software companies. TCE is happy to discuss legal issues because TCE was designed specifically to address not only your clinical needs, but also the legal issues regarding the electronic dental records you might create for a paperless dental office. TCE guarantees the legal integrity of your patient charts as recorded in our software. Of course, it is still up to you to make sure you put the appropriate content into those charts, and we offer a free course in creating good clinical records to all our TCE users. An extended course, certified for 3 CE credit hours in some states, is offered periodically to teach you about the legal issues impacting a practice wishing to maintain electronic dental records to the exclusion of paper records. This course teaches how to create and maintain valid EMR or EHR patient records in your practice regardless of which software you may be using. Of course, TCE makes this easier and much more efficient than any other dental practice management software because TCE was specifically designed for that purpose and not just to bill patients and their insurance companies for work done.