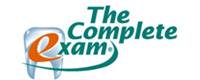 Protecting, promoting, and managing your practice
Great clinical charting abilities, integrates with most digital x-ray systems, and with QuickBooks®, excellent graphics… They're not one of the big players … they're BETTER and capable of doing just as much if not more. (Dental Town, October, 2008)
Contact Us

How to Contact Us at TCE
DBM Enterprises, Inc.
168 Old Stony Ridge Road
Afton, VA 22920-5025

Toll-free Information:
1-866-THE EXAM (843-3926)
Toll-free Fax: 1-866-665-7381
Direct line to Jay's desk: 1-540-946-8292
email: info@thecompleteexam.com
Note: If you call us, please realize that we may not answer your call if our CallerID does not identify your number as one that we recognize. If we don't answer, please leave us a message with your call-back number and we will call you back as soon as we can. Unfortunately, we have to implement this policy due to the incredible number of illegal, spamming robocalls that we get every day.
We promise to never spam or bother you, and will never pass your contact information on to anyone else for any reason. Your contact information is safe with us. We hate spam at least as much as you do!
This web page was last updated on Thursday, March 1, 2018.