Administrative Functions
The Complete Exam® Dental Practice Management Software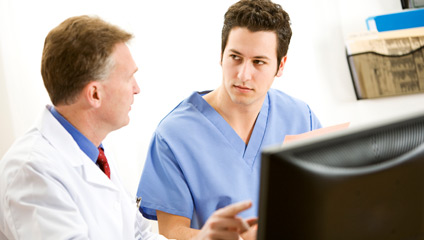 Administrative Tasks most cited factor causing physician frustration, burnout, and depression
A 2018 report published by Medscape* on depression and burnout for physicians indicates that over 55% of reporting physicians consider too many bureaucratic tasks, such as charting and other paperwork, as a factor causing their burnout, making that factor the number one item on Medscape's list. Following that at fourth position in the Medscape list was increasing computerization of their practices, meaning their EHR software. This factor was cited by 24% of the physicians. The EHRs were making the physicians' work more difficult instead of making it easier. I am sure those statistics apply to dentists as well as physicians.
* Medscape report on physician burnout and depression 2018
Recognizing the need as far back as 1999, The Complete Exam® (TCE) was conceived from the ground up by experienced dental and legal professionals committed to creating a dental practice management software that made the administrative functions as simple, effective, and dentist focused as possible. By focusing on the clinician's needs, we have designed a system that helps the dentist create and maintain his patients' clinical charts easily and accurately, and from the clinical records (EMR), The Complete Exam® automatically derives all the data necessary for the administrative tasks with no additional work required of the dentist.
As soon as the dentist finishes his charting activities while the patient is present in the operatory, TCE will be able to create an insurance claim form ready for filing electronically or printing a paper version if necessary, print a walk-out statement for the patient, and will add all work the dentist has just done into not only the patient billing system (ledger for the patient's account), but also to the dentist's tax records for his accountant's use in preparing and filing any tax reports. All of those tasks may be completed before the patient walks out the door after his appointment is complete.
TCE's ability to generate all the administrative data from the clinical EMR created by the dentist or hygienist in real time while the patient is actually present in the operatory eliminates numerous potential opportunities for repeated data points and transcription errors as well as preventing embezzlement activities that a dishonest employee could use to steal money from the practice and avoid detection. TCE is also an administrator's greatly needed time saver with it's efficient, error free, and automatic processing of the practice's critical data.