About Us at The Complete Exam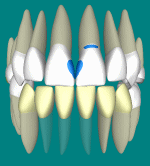 DBM Enterprises, Inc. (DBM), the original developer of The Complete Exam® (TCE), is a "C" corporation with its operations office in Afton, VA (near Charlottesville). DBM was formed by Jay Altman in November of 1983 to develop computer programs to assist lawyers with the management of their practices and to offer consulting and coaching services to help them implement effective systems to succeed at efficiently managing their practices. DBM has operated with the same team, Terri Altman as CEO and Jay Altman as GM & COO, throughout its existence from the beginning and through its move to Virginia in 1993. In 1989, with the encouragement of Jay's uncle, Dr. Peter Dawson, Jay extended his experience and knowledge into the dental industry. After ten years of working with many dentists and dental educators, dental software products, and practice management consultants, in 1999 Jay set a goal of developing a truly comprehensive, user-friendly dental EMR and practice management software package, complete with robust clinical charting and imaging, designed to allow full implementation of an all-electronic, paperless office. This goal was realized with the launch in early 2003 of our core software package, The Complete Exam®.
Field-tested, and proven for over nineteen years now, TCE remains as the only comprehensive dental practice management software system with real 3D tooth charting as we developed and placed into commercial use so many years ago.
Mark Taylor, as our Director of programming, has his MBA degree and has worked in the medical field in the past, including acting as the CFO for a hospital for which he wrote a software application to schedule and manage their home health care division. He also managed all the IT (computers, software and networking) for the hospital, gaining an intimate knowledge of privacy issues involved in the managing of patient electronic health records. Mark has more than 32 years of experience developing unique and innovative software that is very user friendly and reliable. He is a highly skilled programmer proficient in C++, GUI design, and SQL database development and design. Mark has now moved on to other interesting projects, and we are very grateful to have known and worked with him to develop The Complete Exam®.
Several other generous folks (programmers, guru-level dentists, hygienists, consultants and dental office staff) have also contributed great ideas along the way to make TCE the great and innovative program that it is today.